Sunset Skirt of Happiness

Information:
Where Found:
At the top of the West Equator Pole
Renewable:
No
Stackable:
No (Only 1 per world)
Effects:
Happiness bar will always be full
Type:
Clothing (pants)
Duration:
Infinite
Dyeable:
No
The Sunset Skirt of Happiness is found at the west equator, where the stars go straight down. The skirt keeps the minimum happiness of your blockhead at half full when worn.
Strategies From Experienced Players
Edit
"

If you are like me, all I bring along with me is a boat and 1 basket! I pick up the clothing while I journey around the world. If I get hungry, I just pick up random foods including Kelp, to eat. In the end, I always end up with around 5 Gold Chests full of gems, coins and rare fruits!

To climb the poles, I just use some stones and dirt to climb. I always skip a block so I have enough for the next pole.

"

— Kevingirl1 (talk) 02:29, August 4, 2013 (UTC)
Related Images
Edit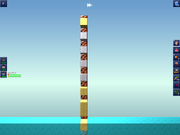 Related Articles
Edit
Sunset Skirt of Happiness
Ad blocker interference detected!
Wikia is a free-to-use site that makes money from advertising. We have a modified experience for viewers using ad blockers

Wikia is not accessible if you've made further modifications. Remove the custom ad blocker rule(s) and the page will load as expected.